Clerics of Hate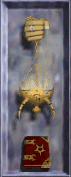 Clerics are Holy men and women,charged by faith
and devotion to enter battle and spread the word of their patron deity. A Cleric feels that the path to righteousness comes in showing others that way through actions.
As the manifestations of life and spirit, Clerics have a hatred towards the undead. They have many abilities specifically designed to turn or destroy the unclean spirits, be they skeletons, wight or vampire. Necromancers, The dark mirrior twins of this class, are regarded as egotistical fools who meddle with forces beyond their reckoning. There is little love lost between the Cleric and the Necromancer Guilds and you'll seldom find the two classes cooperating.
The Cleric is a holy man endowed by his patron deity with the power the heal and, to lesser extent, call upon the wrath of his deity to smite his foes. Prayer is how the Cleric gains his ability. Clerics are very popular with parties of all sizes because of their healing ability.
" So you want to be one of the healers of Norrath, do you ?" Listen well and heed these words, faithful one, for the journey is long and hard but infinitely rewarding ! Clerics are one of the most exciting and playable classes in the land of Norrath, possessing healing and offensive spells that make them a cornerstone of any well-balanced grup, as well as being able to weild blunt weapons and wear almost any armor they please. These unique abilities the Cleric to hit hard as well as take a beating, and live on to fight another day. In addition, Clerics are granted the ability to take on undead foes at levels that would have a fighter at the same level fleeing for his life ! Wheather your style is group or solo play, the Cleric is equipped to deal with it like no other class.
To be honest a Cleric is not as effective at solo as the heavier casting pure caster classes. This is because, round for round, a Cleric is going to have a harder time dealing consistent damage to kill higher level foes, as well as having no dots " damage of time " spells, the Clerics damage is pretty much all or nothing making solo a hit and run battle, Myself being what I like to think a high level Cleric have found the best way to solo is to root, blind, blast repeat, Clerics can blast out a beating with their spells, but their most powerful spells take a while to cast leaving them vulnerable, and big damage spells take up big damage mana. Take it from me the one time you need mana for a quick heal is right after draining to blast an opponent.

IMPORTANT ATTRIBUTES: Wisdom for mana, Stamina to provide the energy (hit points) needed for battle.


Zylr D'Vine
65 Cleric of Innoruuk
Prexus